The Sample of Non Live-Plucked Products Guarantee (Front)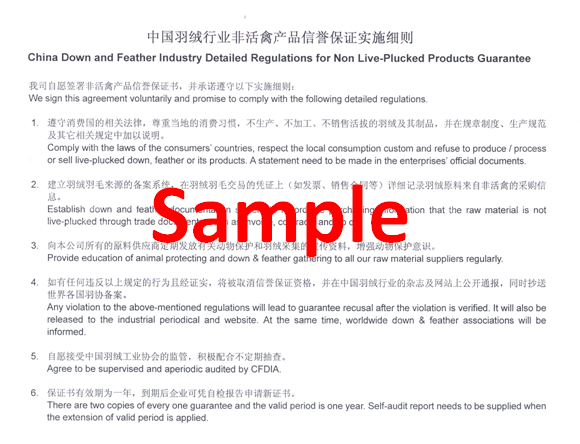 The Sample of Non Live-Plucked Products Guarantee (Back)

China Down and Feather Industry Detailed Regulations for Non Live-Plucked Products Guarantee
We sign this agreement voluntarily and promise to comply with the following detailed regulations.
1. Comply with the laws of the consumers' countries, respect the local consumption custom and refuse to produce / process or sell live-plucked down, feather or its products. A statement need to be made in the enterprises' official documents.
2. Establish down and feather documentation system to record the purchasing information that the raw material is not live-plucked through trade documents, such as invoice, contracts and so on.
3. Provide education of animal protecting and down & feather gathering to all our raw material suppliers regularly.
4. Any violation to the above-mentioned regulations will lead to guarantee recusal after the violation is verified. It will also be released to the industrial periodical and website. At the same time, worldwide down & feather associations will be informed.
5. Agree to be supervised and aperiodic audited by CFDIA.
6. There are two copies of every one guarantee and the valid period is one year. Self-audit report needs to be supplied when the extension of valid period is applied.
Declaration
The copyright is only reserved by China Feather and Down Industrial Association. Without permission, any change or alternation is prohibited.