On Jan 11th, 2016, the annual IDFB Frankfurt meeting was held in the Hotel of Hessischer Hof,Germany as scheduled. The meeting included 4 parts: Meeting of the Technical Commission (TC), Meeting of Public Relation Committee (PRC), Meeting of the Presidential Board (PB). After meetings, the reception was followed for all the delegates to enjoy and communicate. Liuqiao Group Co., Ltd, Zhanjiang Ziking Eiderdown Production Co., Ltd., Anhui Million Feather Co., Ltd., Anhui Homchang Feather & Down manufacture Co., Ltd., also sent their representatives to join this gathering.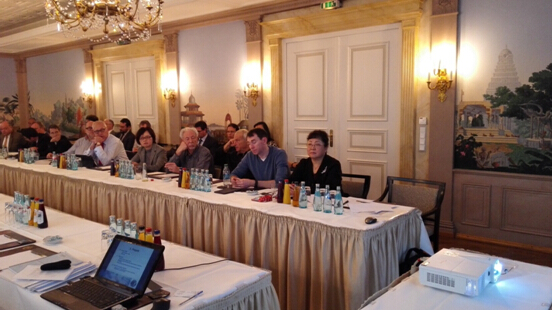 TC meeting

During TC meeting, TC firstly announced that 34 laboratories passed 2015 IDFB Round Robin Test, qualified to receive IDFB certification. After that, Madam Yao Xiaoman, the Chairwoman of CFDIA introduced the amendment of China national standards of GB/T 10288-2003 "Feather and Down Testing Method" and GB/T 17685-2003 "Feather and Down". Above two new standards,approved to implement in 2016,would achieve the unification of domestic down standards and integration with international standards in the near future.Madam Yao's speaking was highly welcomed and appreciated by all meeting attendees.
In the PRC meeting, the work group mainly discussed the editing of IDFB White Paper, covering the basic situation of down industry, feather and down knowledge and advantages, the position of IDFB and etc. IDFB White Paper has aimed to become tool kits for global down enterprises to handle public relationship, maintain feather and down product image and promote market. The draft of White Paper has been finished, meanwhile it would be issued at the end of Mar, 2016. Then CFDIA would take charge of publicity and industry promoting within China market.
PB meeting focused on how to react the negative campaigning from animal protection or welfare organization. Representatives from Taiwan Feather Exporters' Association (TFEA) shared their experience of fighting against "Blood Down" during Dec 2015. Madam Yao also reviewed the CFDIA's reaction to the untruthful report from Outside magazine. What's more, she appealed to down industry to unify, to be more proactive and defend industry position. PB members reached the agreement after discussion: IDFB would carry out more works and actively protect down industry interest from now on. Madam Yao also introduced CFDIA's crackdown on fake and inferior web marketing down products during Double 11 and Double 12 Shopping Festival.
PB meeting

Invited by Japan Down Products Corporative Association (JDFA), the 2016 IDFB plenary meeting would be held in Sapporo, Japan. IDFB event application would start at the mid of Feb. And cutoff date for registration would be the end of Mar. 2017 IDFB plenary meeting was preliminarily decided to be held in Miami, America.