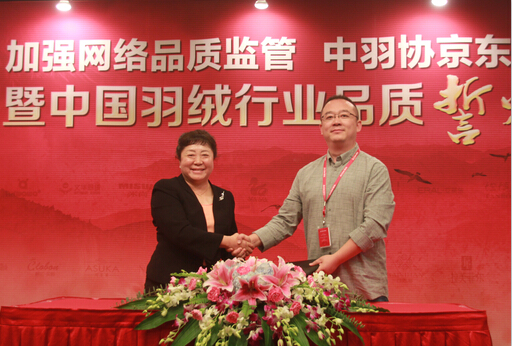 On 16th, October 2015, China Feather and Down Industrial Association (abbr as CFDIA) held the meeting which titled "Reinforce Web Marketing Products Quality Control, CFDIA and JINGDONG Mall Strategic Cooperation, and Quality Guarantee Swearing of China Feather and Down Industry" in Beijing. It also marked the start of CFDIA's quality control strategy for web marketing products. Later, CFDIA would carry out a series of actions to enhance and guarantee the quality of web sale down products as well as protect both industry and consumer's interest. During this grand meeting, CFDIA signed the long term strategy cooperation agreement with JINGDONG Mall. What's more, 25 famous professional down product brands sincerely swore to consumer and market: "keep integrity and fair competition in operation, strictly obey national and industrial standards, and ensure quality and after-sale service, never sell fake products." Their sincere promises represented the determination of domestic down industry to guarantee product quality. Representatives from correlative National authorities, China Consumers Association, China General Chamber of Commerce and authoritative testing institute also attended to witness this event.

Currently, AQSIQ (General Administration of Quality Supervision), consumer association and different online sale platforms have taken more and more serious quality control actions. Based on the quality management of those departments and platforms, CFDIA has spared no efforts to promote the purification of down product market and improvement of quality. Several detailed movements have been included as following:
1.CFDIA would cooperate with JIGNDONG MALL and jointly held professional sales promotions eg. Online Down Exposition, aimed to introduce good quality and genuine licensed products to the public, create safe purchase environment and protect consumer's interest. To achieve these points, CFDIA would launch three sales promotion activities for famous down brands with JINGDONG Mall in the near future:
A.New Product Season: late October, 2015
B.Hot Sale Season: beginning of December, 2015
C.Clearance Season: late January, 2016
2.During sales promotion, CFDIA would place a major emphasis on introducing the new version of Feather and Down Products Credit Guarantee Label. Down products which took this Label, would receive quality control and assurance from CFDIA. The new version Label added QR code, each QR code would be linked with each specific product. After scanning QR code, consumers could be able to distinguish the false from the genuine through given information, and then protect their legal rights. Labeled products would enjoy prior promotion during the cooperation between CFDIA and online shopping malls. Meanwhile this new Label would serve as the mark for genuine licensed products and enjoy long term promotion.
3.During selling period, CFDIA would continue to publicize feather and down knowledge, which included the basic knowledge of purchasing, washing and caring. Consumers were expected to know more about down and feather, learn to distinguish fake and inferior products.
The core of CFDIA's quality control strategy of improving web marketing product was to recommend professional brand and genuine licensed products to the public through the cooperation between different quality control departments and sale platforms. By those efforts, CFDIA hoped to let common consumers enjoy high quality down products, purify down market, isolate fake and inferior products, improve China down industry image, and enhance consumer confidence. Moreover, the most important point was to keep the healthy development and prosperity of China down market.