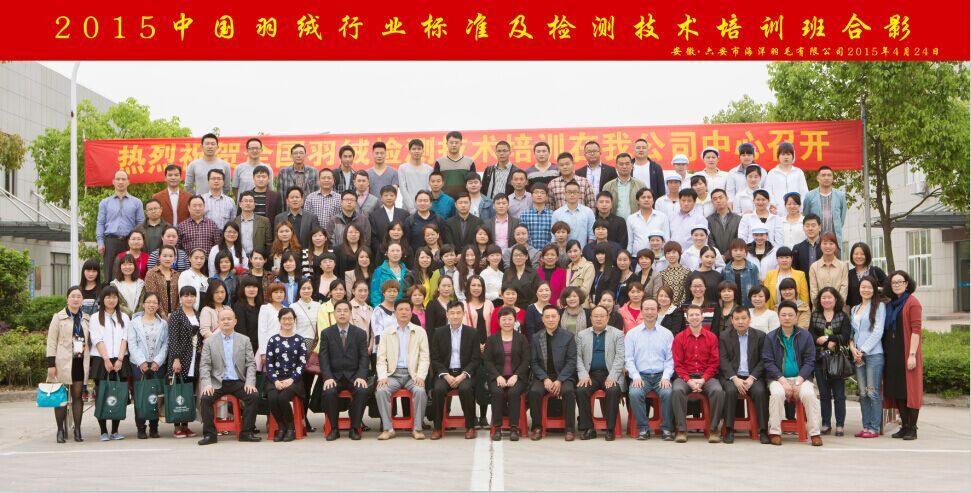 Hosted by China Feather and Down Industrial Association (CFDIA), The 2015 China Feather and Down Industrial Standard and Testing Technology Training Course was undertaken successfully by Anhui Down & Flax Products Quality Supervision and Inspection Center in Anhui Lu'an city. 108 participants from 63 units which were feather and down processing enterprises, down products manufacturers, trading companies and labs specialized in down testing participated in the training course.
Yu Jinhai Yao Xiaoman
At the opening ceremony of the training course, Mr. Yu Jinhai, the deputy director of Anhui Down Flax Products Quality Supervision and Inspection Center, also the president of The Sea Feather Limited Company of Luan, first made a welcome speech to all down industrial professors and delegates from the country. After that, Madam Yao Xiaoman, the chairwoman of CFDIA, reaffirmed the purpose of CFDIA holding this training course, "to promote down standards, to improve the testing level and ability of the laboratories, to train a professional testing team for the industry." and hoped that participants could really learn something in the training. Mr. Shi Xiuxiang, the director of Anhui Down Flax Products Quality Supervision and Inspection Center was also invited to the ceremony.
The training lasted for two days and was divided into two parts---the theory teaching and the practice training. The theory teaching mainly explained some related regulations of each country's feather and down labeling standard about the content analysis, chemical index and fill power, the requirement of the down products fabrics and some testing items which should be paid attention to during purchasing and selling process. While, in the practice training, participants were separated into groups to study four aspects such as the content analysis, species identification, fill power and down-proof fabrics.
Jeff Song Benjamin Wang

Guo Yufeng
As the lecturers of this training course, Jeff Song, the director of the feather and down testing lab of Zhejiang CIQ, Benjamin Wang, the manager of testing section from IDFL, and Guo Yufeng from the textile lab of Anhui CIQ technology center were well prepared for the event. They explained some key points and difficulties of main testing items and also solved some problems on the spot, which was recognized by the participants.
The participants said that after the training course, they not only improved the communication with colleagues and established a connection with professional testing institutes and lecturers, but also solved many problems appeared in the daily work and corrected testing method mistakes, which truly improved the testing ability.
Moreover, we have invited the lecturers to the down testing technology discussing group, hoping that everyone could continue communicating and discussing about the related down testing technology problems in the practice. We encourage our colleagues to enhance the communication in future and go on studying with each other in order to make a positive contribution to improve the testing level and ability and make sure the reputation of the industry and the products' quality.