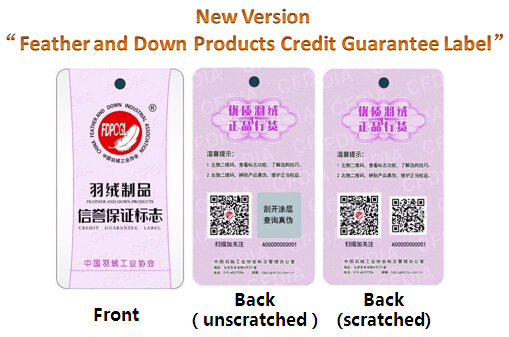 Registered with the State Administration for Industry & Commerce by the China Feather & Down Industrial Association (CFDIA), the Feather and Down Products Credit Guarantee Label (FDPCGL) is a certified brand for guaranteeing the quality of raw feathers and down, as well as the quality of the finished products, and customer service after purchase. CFDIA has registered FDPCGL and owns the exclusive rights of this brand.
Marking the products with top class and quality, FDPCGL thus is a special mark only for feather and down products of good quality. Goose and duck feather & down filled products can be labeled with the FDPCGL, which can prove three points:
1. The quality of the products meets the national and industrial testing standard.
2. The product is mid-high class with fine workmanship, new fabric and the latest trend.
3. The producer provides good after-sales services.
The enterprises who apply for FDPCGL are strictly examined and certified by CFDIA. Annually CFDIA inspects and certifies the enterprises that are already certified with the FDPCGL in order to keep the label's authority, solemnity, and justice.
CFDIA insists on introducing new enterprises and products with FDPCGL to consumers and large malls in order to provide more convenience to customers and benefit them as much as possible.